Factsheet
Games Pack 3
Media:
Cassette
Publisher:
CCI
Catalog#:
CCI006
Year:
1984
Extension:
Standard
Games Pack 3
Games Pack 3 by Custom Cables International (C.C.I.) Electronics contains 4 games;
1. Metior
2. Sheepdog
3. Mastermind
4. Depthcharge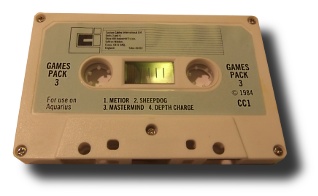 The Games
GAME 1 Metior
You are Sole, the last bastion between the planet metiors plasma bomb attack which threatens the earth crust. You have to shoot down each ball of plasma or it will break the earth's crust, and all is lost. A fabulous game which combines strategy with co-ordination.

GAME 2 Sheepdog
This Sheepdog of the future has probles with its extra terrestial love sheep. Flash dido wants to put them all into the pluto pens but doesn't want to leave any of them out or they will perish in the pluto putrid night and so will flash dido. A fun fido game which keeps you engrossed for hours.
GAME 3 Mastermind
Everyone knows this classic game of cunning and logic. Now you can play it electronically against the computer. Computers don't make mistakes so you really need you're wits about you. A classic game which comes really to life for the whole family on your home colour TV system.
GAME 4 Depthcharge
Your destroyer criss-crosses the seas whilst the enemy lurks below. You drop depthcarges from the prow or bow and score as much as you can until your time runs out on your nuclear powered boat.