Factsheet
Games Pack 2
Media:
Cassette
Publisher:
CCI
Catalog#:
CCI005
Year:
1984
Extension:
Standard
Games Pack 2
Games Pack 2 by Custom Cables International (C.C.I.) Electronics contains 4 games;
1. Bounder
2. Local Bomber
3. Breakout
4. Night Driver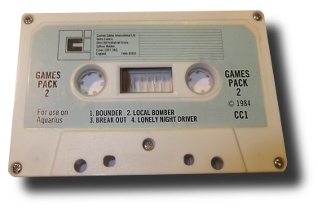 The Games
GAME 1 Bounder
This is a truly addictive game which needs all your skill and imagination. Direct the ball with your left or right bat to hit your target. This game ranks as an all time family favourite.

GAME 2 Local Bomber
Your mission is nearly impossible, you have to destroy the alien city before you run out of fuel and crash into the skyscraper. Every successful mission is followed by a faster and harder run, compulsive, fun and very moorish.
GAME 3 Breakout
The new version of breakout, if you fancy yourself as a table tennis, squash or any bat and ball player, this is the game for co-ordination between hand and eye. A truly super game with a mesmerizing ball wall breaker.
GAME 4 Lonely Night Driver
If you've played the arcade game then you know the rules. Practise your driving skills in this high-speed car driving game. See how far down the road you can get but watch out for the thrills and spills.