Factsheet
Mower man
Media:
Cassette
Publisher:
Add On Electronics
C.C.I. Electronics
Catalog#:
KEB020
CCI008
Developer:
Keith Perry
Year:
1984
Extension:
16K
Mower man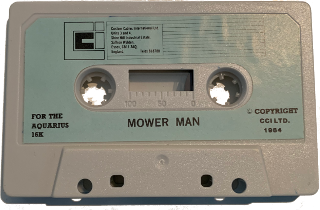 The Game
Sometimes a maze game comes along which is so simple yet so ingenius and cunning that you have to say, "Why didn't I think of that?". Mower man is a new machine code game by new author Keith Perry.
The game has great graphics, a fantastic 3 channel sound track (only when you use mini-expander) and consists of:
Mr Mower has to cut the grass in the park and pick up all the litter and he really enjoys doing the job. However, into all idyllic jobs a little trouble has to fall and Mr Mower has a few "Little Troubles". Firstly he is on piece work, so he has to cut the grass within a time limit and secondly he has an energy problem, which he can only top up by eating Mowermans lunch. If he runs out of time or energy then it's back to the beginning again. So far all nice and sweet, but zooming around are swarms of killer bees, if Mr Mower gets stung then it's "One man went to mowers heaven". Mower man is a game that is addictive and needs strategy. If you can mow the park within the time limit, keep your energy up by eating your Mowermans lunch and avoid the killer bees, you can keep on piling up your score to enter into the hall of fame top ten. The further you go the more swarms of killer bees you stir up.
A fun family, addictive, super pleasant game.
Screendumps