Factsheet
Millypede
Media:
Cassette
Publisher:
Add On Electronics
Catalog#:
KEB005
Developer:
Kevin Baker
Year:
1983
Extension:
16K
Millypede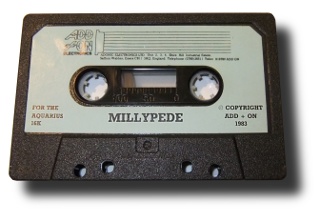 The Game
After the Inter-Galactic fusion bomb hit Earth, strange things happened to our plant and animal life (and spelling!). The once humble mushroom patch is now inhabited by some of the most deadly mutants, millypedes. It is up to you to activate the anti-mutant weapons.
Your task is to prevent the mutant-millypedes and sickly spiders getting into your family anti-fusion shelter. But be careful there's more danger lurking. Once you've killed the first mutant-millypedes, they mutate and turn into multi-mutant-millypedes (wow alliteration).
Just how good are you at playing this all machine code version of the oldie arcade game. Play millypede and find out. This is the version of the arcade game that's challenging even the Time Lords. But if you're one of the high scorers send it in and go into our hall of fame.
Screendumps