Factsheet
Ed-On
Media:
Cassette
Publisher:
Add On Electronics
Catalog#:
KEB003
Year:
1983
Extension:
16K
Ed-On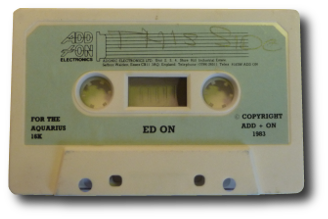 The Game
Based on the popular arcade game, your objective is to travel around the racing circuit, covering the dots, changing lanes, speeding up and down to avoid the oncoming cars.
This version includes flags which if picked up gain bonus points. This all machine code game makes excellent use of the sounds generated by machine code, changing as you accelerate or decelerate.
Includes ever increasing levels of difficulty and high score facility and will operate on Kempston Joystick.
Screendumps