Factsheet
Chess
Media:
Cassette
Publisher:
Dick Smith Electronics
Catalog#:
X-6203
Extension:
16K
Chess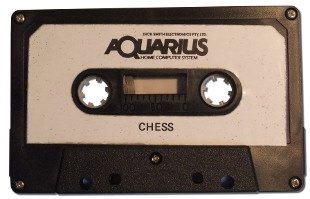 The Game
Chess by Dick Smith Electronics is the well known board game where you can compete against the Mattel Aquarius computer.
The games 6 levels for difficulty. Level 1 is easy and level 6 is hard.
During playtime you can save the game to tape or reload a previous game.
The downside is that the game does not come with instructions. You will have to find out during playtime.
Screendumps