Factsheet
Aquariworm
Media:
Cassette
Publisher:
Cronosoft
Catalog#:
AQ20-1
Developer:
Roy Templeman
Year:
2020
Extension:
4K
Aquariworm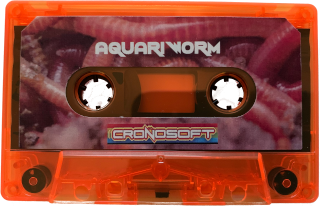 The Game
Aquariworm. A brand-new game for the Mattel Aquarius with a minimum of 4K RAM pack expansion by Roy Templeman.
Guide your worm aroud the screen collecting the food and avoiding the barriers, traps and walls that have been places in your path. The world that the worm lives in is a dangerous place, and it will take time and skill for you to navigate through this dangerous assortment of enemies. This full colour, fast placed game will keep you coming back for more, as you try to grow your worm and avoid the obstacles.
As you progress, additional traps will be placed in your path
Keep going for as long as you can!
Screendumps