Factsheet
Aliens
Media:
Cassette
Publisher:
Add On Electronics
Catalog#:
KEB002
Developer:
Warren Wander
Year:
1983
Extension:
16K
Aliens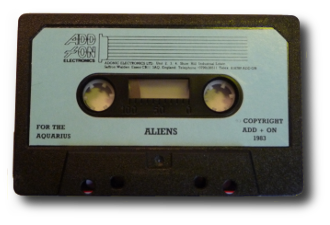 The Game
If you have just bought your AQUARIUS computer then ALIENS is the game to start your collection.
Aliens is the first machine code game written for the Mattel Aquarius computer which is a shoot'em down game with a difference, you man your laser guns and squadrons of coloured aliens attack you. After you have shot down 25 of them you move into a different type and . . . you've guessed another type and another coloured alien appears.
You actually get 16 different levels, styles and coloured of aliens.
This addictive game will keep you occupied for hours but just as important will help you get to know your Aquarius.

How to load programmes, how to use the keyboard, all the different colours, all the different shapes and most important, HOW DO I WRITE A PROGRAMME LIKE THIS?
We wish you good fun with your ALIENS and remember this was the first cassette based game for the Mattel Aquarius and it's British.
Screendumps